Ravi Shankar
(USA, 1975) India/USA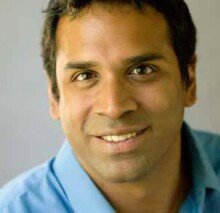 Ravi Shankar is a poet, translator and professor of poetry, based in Connecticut, USA. He is the founding editor and executive director of Drunken Boat (which he describes as "one of the world's oldest electronic journals of the arts"). He is the author and editor of ten books and chapbooks of poetry, including What Else Could it Be (2015); Deepening Groove (2010), winner of the National Poetry Review Prize; Instrumentality (2004), a finalist for the Connecticut Book Award; and Autobiography of a Goddess (2015), a collection of translations from the Tamil with Priya Sarukkai Chabria. His editorial projects include W. W. Norton's Language for a New Century: Contemporary Poetry from Asia, the Middle East & Beyond, co-edited with Tina Chang and Nathalie Handal.
Shankar grew up in Virginia, and holds a BA degree from the University of Virginia and an MFA from Columbia University. He has won a Pushcart Prize, received multiple fellowships and performed his poetry widely. He is currently Chairman of the Connecticut Young Writers Trust, on the faculty of the first international MFA Program at the City University of Hong Kong, and a professor of English at the Central Connecticut State University.
The energy in Shankar's poems is visceral. The language is restless, lurching, hungry for surprise, the verbs packed with velocity, the register swinging between formal and the demotic (both American and Indian). Underlying this vigour seems is an almost voluptuous need to embrace myth, history, metaphysics and pop culture – an impulse to bring Adi Shankara and Wallace Stevens, Simone Weil and the Shaktiman, blues and Bollywood into a single book, and sometimes into a single poem. This intellectual playfulness is matched by an alertness to form – with references ranging from the African American
bop
to the
pankti
, a Vedic metre in this selection – making for a playful, stylistically supple poetry.
The poems in this edition are drawn largely from his very first book and his most recent. The preoccupation with language – its treacheries, the poet's quest for exactitude – has obviously been an abiding one, evident in references to the essence of things slipping
"through the noose of language"
or the lurking cultural grammarian's
need to point out that
"Even as a child when I was slurred in school – /
Towel head, dot boy, camel jockey –
/ None of the abuse was precise."
There are no facile conclusions about belonging, no need to retrieve any singular sense of rootedness: "I never owned/ What's been taken from me, never have belonged/ In and to a place, a people, a common history." However, even while he celebrates the grand mess of being an "epiphyte," feeding off a plural inheritance, there is the ability to admit to uncertainty: "I'm still unsure what effect it has on my soul." And at another juncture, even more vulnerably: "I just want to get home, go to sleep."
Also recurrent is a philosophical curiosity about the nature of the human soul, the "indwelling life illimitable," the
"third Christ,"
the
thirst for a perspective
of ultimate truth, but not one without beauty:
I will see my life, family, fellow citizens,
This planet Earth suspended in an amplitude
Of stars, as a single water-drop loosed from
A lotus petal, spreading drowsy circles in a lake.
Bibliography

Poetry
Instrumentality, Cherry Grove Collections, Cincinnati, 2004
Wanton Textiles, with Reb Livingston, No Tell Books, Fairfax, 2006
Seamless Matter, Rain Taxi, Ohm Editions, Minneapolis, 2010
Voluptuous Bristle, Finishing Line Press, Georgetown, 2010
Deepening Groove, National Poetry Review and Press, 2011
What Else Could It Be, Carolina Wren Press, Durham, 2015

Translation
Autobiography of a Goddess: Translations of Andal, with Priya Sarukkai Chabria, Zubaan Books, New Delhi, 2015

Links
Poems and essay by Shankar for the Academy of American Poets
Shankar on American poetics and his own sensibility for the Poetry Society of America
Interview on Jacket with Shankar and Ram Devineni
Videos of Shankar reading his poems Exile and Sitcomposite